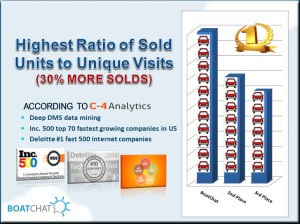 BoatChat helps increase marine website leads
With the top 200 marine dealers in the United States coming off the best sales year since 2007, according to BoatingIndustry.com, increasing leads and sales from marine dealer websites is more important than ever. And one of the best ways to boost boat sales is to add a high-performance managed chat service to the website. Live chat from BoatChat can add 50 percent or more to the contact form lead count, which converts not only to higher boat sales, but website leads tend to also be the most profitable.
Marine digital marketing vendors make a lot of claims, but C-4 Analytics, in Saugus, MA, near Boston, performs deep website marketing data research and confirms that the BoatChat interface, as well as highly-trained chat operators lead the managed chat industry with a closing ratio 30 percent higher than the next best live chat provider in the transportation industry, compared to unique visit count. Whether your marine dealership or marina specializes in Meridian, Azimut, or Benetti yachts on the high end, or mainstream Sea Ray and Boston Whaler boats, internet shoppers more and more lean toward starting the buying process with a live chat conversation.
That's where BoatChat can make an epic difference. With top-notch chat operators on call around the clock to respond to website chat requests, they can help boat shoppers with the information they seek, and collect quality lead information for the sales team. Not only does BoatChat forward basic lead information, but marine dealers get a fully copy of the chat transcript, including website pages the shopper viewed. This gives sales team members who follow up a head-start building rapport and selling another vessel.
If you are a marine dealer or marina manager looking for an effect way to boost leads from your website, be sure to contact the team at BoatChat today.