Boat buyers want to shop 24/7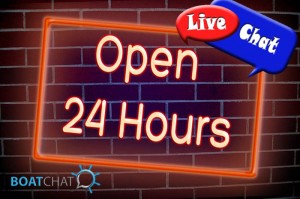 Punxsutawney Phil didn't see his shadow earlier this month, but the Miami International Boat Show show was this weekend, and it's only a matter of time before boaters start thinking about getting out on the water and looking around for their new watercraft. And once they land on your website, you want a way to increase your chance to generate a lead. There was a time that adding live chat to a marine dealership website was a novel way to communicate with shoppers. That's changed – and in a huge way! Using live chat, especially a quality managed chat like BoatChat, gives boat stores a great way to proactively engage boat shoppers on their website and actually increase internet leads from the website by as much as 60 percent.
You want your sales team to walk out and meet each customer. With a proper setup, our live chat can accomplish the same thing on your website, as well. Between the proactive popup and the different icon elements, chat allows you start the conversation around the clock while someone is still on the site. A typical dealer has about a 70 percent 'unique visitor' count each month – that means more than two-thirds of website shoppers are NEVER COMING BACK. So doesn't it make sense to take every step possible to ensure you capture their contact information as a quality lead so you can put them into your sales funnel?
BoatChat software is the most advanced in the industry, engineered from the ground up to generate a lead from a dealership website. In addition, BoatChat operators are the best-trained in the industry to help your website shoppers gather the information they need and collect quality lead information for your sales team. This lead information can be forwarded to your website through your CRM system, as well as in an email or even an SMS text message. As mobile website traffic continues to grow, so does the importance of adding quality chat to your marine sales website. Every day you delay is costing you leads, so call today to schedule a quick demo.