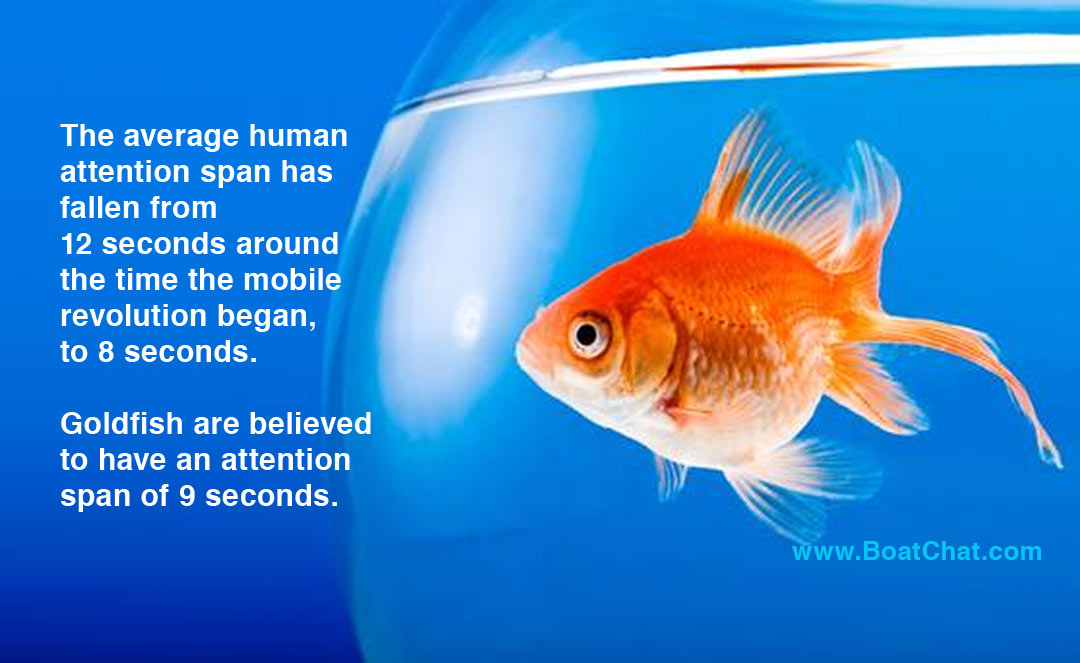 With the rapid adoption of smart phones and tablets, free Wi-Fi hotspots, and fast mobile data networks, we now live in a constantly connected world. Take a look around anywhere to see that people are online any time and any place.
This is a good thing for online businesses, including marine dealerships, since it means their audience is growing and is available 24/7. Your website is on 24 hours a day, too, but is it really working for you around the clock?
Short Attention Spans Need Proactive Engagement
Full-time connectivity has a major impact on the attention spans of internet consumers. A competing website is always just a click or tap away. Boat dealerships with websites need to find ways to not only catch the attention of a user, but also keep their attention long enough to connect with potential customers. Internet consumers live in a world of instant answers, which means a lack of patience, and a need for ore direct guidance or "hand holding". A traditional website is static – it may look great, convey your message well, and it may even have some bells and whistles that make people want to stick around a while; but it is best to reach out and take their hand. Guide shoppers, show them exactly what you want them to see, and tell them exactly what they want to know.
Live Chat Can Help Overcome The Problem of Short Attention Spans
Bonus Tip:
Use Live Chat To Optimize User Experience
With BoaChat.com, your developers or digital marketing team can come along for the ride and see where the website might be failing to deliver. Where are users getting confused by the marketing copy? Which calls to action are consistently missed by the users? What questions do visitors have most frequently and what can you do to improve how that information is presented? Look for opportunities to make improvements to your whole online business model based on what you can learn from Chatware sessions.
An effective, proactive live chat system from BoatChat.com allows your boat dealershp to engage with website visitors at just the right moment during their visit. With BoatChat, you can provide curious shoppers with extra information that might not be on the website, or direct them to the part of the site where it can be found. More importantly, BoatChat is the tool your team needs to be able to build a rapport with those visitors and turn them into valuable sales leads – without relying on them fill out your contact form.
Waiting Is Not An Option
Even with short attention spans, people still base purchasing decisions on information, or at least a very convincing sales pitch. Don't make people wait for the information they seek. And don't wait until your competitors are meeting the needs of today's consumers before you do something!
Call 1-800-601-0682, or contact BoatChat right now to get started.