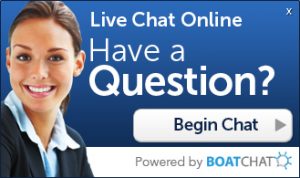 Adding live chat software to a boat dealership website is the best way to boost leads. It converts websites from a passive brochure to an active shopping experience, in which shoppers can communicate via chat or text with a dealership operator. The greatest success for dealers is to add BoatChat fully-managed chat support on their website, but there are a couple of other ways to take advantage of this cutting-edge technology.
As VP of Sales, Jeff Sterns, explains in the video above, the most basic investment point for live chat is to install BoatChat Software on their website. Boat and yacht dealers get the same technology benefits as a fully managed option, including:
Variety of chat icons with virtually unlimited color options
Scientifically-tested proactive popup invite
Mobile chat interface with exclusive technology
Industry-best SignalR server technology for chat reliability
Custom-engineered chat operator console for dealer staff
Comprehensive award-winning analytics
For a low monthly fee, boat dealers have all this available as an online subscription. As Sterns explains, there are 1,440 minutes in a 24-hour day when shoppers can be on a boat dealer website. The challenge for a dealer arises from the need to have staff available within 10 seconds to respond to chat requests.
The BoatChat programming team pioneered the solution for this weakness. Dealers and marinas can opt to have the BoatChat operators on standby with Backup Support available around the clock if dealer staff are unable to respond or after hours. This ensures that boat shoppers on the dealer website can get the conversation started and generate quality boat sales lead information.
Call, chat, or text today for more information and to schedule your brief internet demo.